Our Identity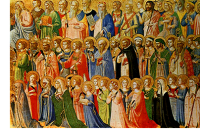 OUR ANGLICAN IDENTITY
St. John's Anglican Church is part of an international network of churches known as the Anglican Communion. This network grew out of the missionary expansion of the Church of England over the past 500 years and now consists of 38 self-governing provinces around the world, in 164 countries, with tens of millions of members. In many places, particularly throughout the Global South, the churches of the Anglican Communion are known for their vibrant faith in God and transformational presence within their communities.
In 2009, the Anglican Church in North American (ACNA) was born. The ACNA is now becoming the home to many of the Anglican churches on our continent. In June of 2014, the Rt. Rev. Foley Beach was elected the Archbishop of the ACNA. St. John's joined the ACNA in 2012. Click here to learn more.
We are a part of the Anglican Diocese of Pittsburgh under Interim Bishop Martyn Minns. Click Here to learn more.


OUR BELIEFS
The Nicene Creed
We believe the Nicene Creed provides a faithful outline of the Christian life. This statement was crafted by the Church in the fourth century and serves as the central statement of Christian theology. It reveals the essential elements of our faith, and we confess it together almost every Sunday as part of our services. Please click here for a PDF of the creed in its entirety.
The 39 Articles of Religion
The framework of our congregation is Anglican. The basic theology of Anglicanism is summed up in these 39 "Articles of Religion." They come from the time of the English Reformation, though the following version uses more modern language.
The 39 Articles affirm the following:
Faith in the Holy Trinity
The Word, or Son of God, who became truly man
The descent of Christ into the realm of the dead
The resurrection of Christ
The Holy Spirit
The Sufficiency of Scripture for salvation
For further descriptions of the first six articles and complete descriptions of all 39 articles, please click here.
OUR VISION
St. John's Anglican Church of Franklin is a Christian community pursuing communion with God through liturgical worship, the rhythms of work, rest and play, and the love of others and creation.