sunday, December 9th


I love you, O Lord, my strength.
The Lord is my rock and my fortress and my deliverer,
my God, my rock, in whom I take refuge,
my shield, and the horn of my salvation, my stronghold.
I call upon the Lord, who is worthy to be praised,
and I am saved from my enemies.
The cords of death encompassed me;
the torrents of destruction assailed me;
the cords of Sheol entangled me;
the snares of death confronted me.
In my distress I called upon the Lord;
to my God I cried for help.
From his temple he heard my voice,
and my cry to him reached his ears.

Second week of Advent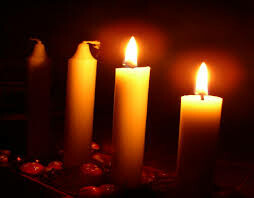 Saturday, December 8th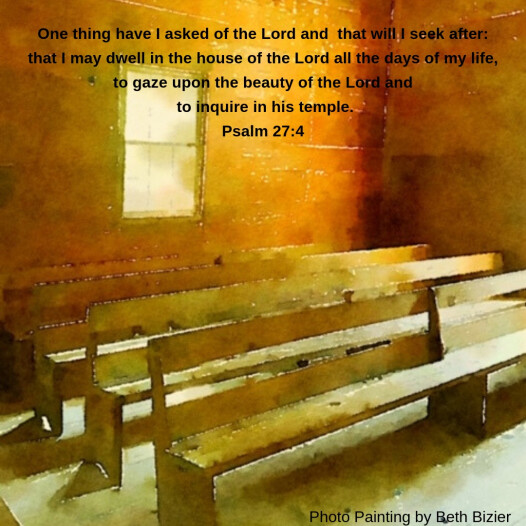 Psalm 27:4-5
4One thing have I asked of the Lord; that will I seek after:
that I may dwell in the house of the Lord all the days of my life,
to gaze upon the beauty of the Lord and to inquire in his temple.
5 For he will hide me in his shelter in the day of trouble;
he will conceal me under the cover of his tent;
he will lift me high upon a rock.

"One Thing"
By Gerrit Gustafson, Sung by Watson and Becky Frawley
CLICK HERE TO PLAY MUSIC
Friday, December 7th
Psalm 16:7-11

I bless the Lord who gives me counsel; in the night also, my heart instructs me.
I have set the Lord always before me; because he is at my right hand, I shall not be shaken.
Therefore my heart is glad, and my whole being rejoices;my flesh also dwells secure.
For you will not abandon my soul to Sheol, or let your holy one see corruption.
You make known to me the path of life; in your presence there is fullness of joy; at your right hand are pleasures forevermore.
Thursday, December 6th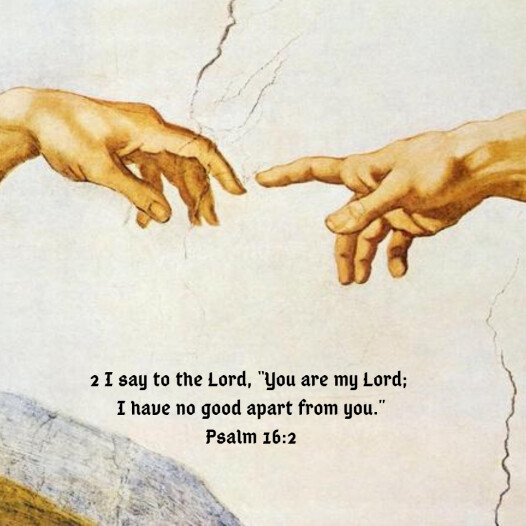 (From 'The Creation of Adam' by Michelangelo)
Psalm 16:1-6
Preserve me, O God, for in you I take refuge.
I say to the Lord, "You are my Lord; I have no good apart from you."

As for the saints in the land, they are the excellent ones in whom is all my delight.

The sorrows of those who run after another god shall multiply;
their drink offerings of blood I will not pour out or take their names on my lips.

The Lord is my chosen portion and my cup; you hold my lot.
The lines have fallen for me in pleasant places;
indeed, I have a beautiful inheritance.


"My Hope Is Jesus"
by Stephen McPherson for Hillsong
Click Here to Play
Wednesday, December 5th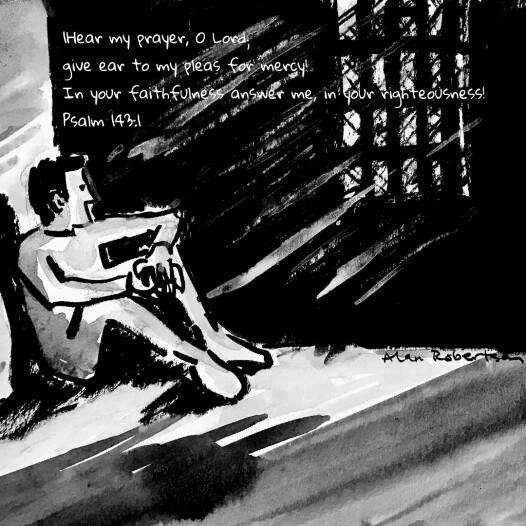 Sketch by Alan Robertson
Psalm 143: 1-6
1Hear my prayer, O Lord; give ear to my pleas for mercy!
In your faithfulness answer me, in your righteousness!
2 Enter not into judgment with your servant,
for no one living is righteous before you.
3 For the enemy has pursued my soul;
he has crushed my life to the ground;
he has made me sit in darkness
like those long dead.
4 Therefore my spirit faints within me;
my heart within me is appalled.
5 I remember the days of old;
I meditate on all that you have done;
I ponder the work of your hands.
6 I stretch out my hands to you;
my soul thirsts for you like a parched land.
'Sicut cervus'
(Voices of Ascension Chorus and Dennis Keene)
Tuesday, December 4th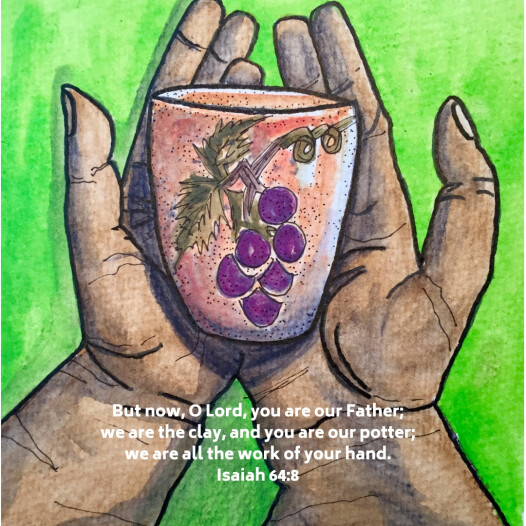 Painting by Alice Dighton
Isaiah 64:8-9
8But now, O Lord, you are our Father;
we are the clay, and you are our potter;
we are all the work of your hand.

9 Be not so terribly angry, O Lord,
and remember not iniquity forever.
Behold, please look, we are all your people.


Monday, December 3rd

Isaiah 64:5-7

5You meet him who joyfully works righteousness, those who remember you in your ways. Behold, you were angry, and we sinned; in our sins we have been a long time, and shall we be saved?
6We have all become like one who is unclean, and all our righteous deeds are like a polluted garment. We all fade like a leaf, and our iniquities,
like the wind, take us away.
7 There is no one who calls upon your name, who rouses himself to take hold of you; for you have hidden your face from us, and have made us melt in the hand of our iniquities.
Click to play music:
By Dave Hunt
Photo credits: 

Photo by Gustav Willet: 
http://www.guworld.com/2017/_perat.html
sunday, December 2nd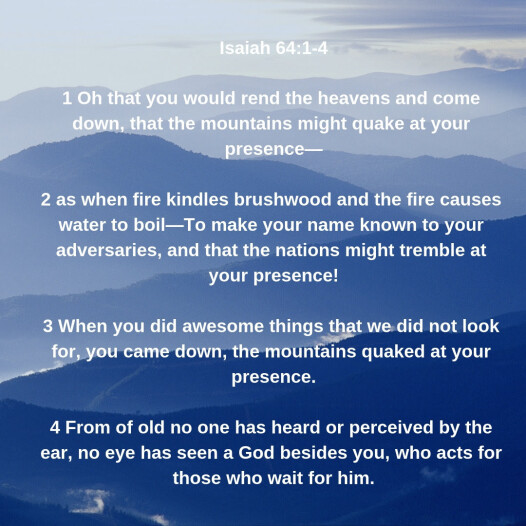 Day to day and throughout each day, we find ourselves waiting in small, perhaps insignificant ways. We wait for the mail, for the kids to get home, for grocery store lines to speed up, for traffic lights to change, for colds to pass and for payday to come. However, in Advent, we can choose to enter into three far more significant and difficult kinds of waiting- that of waiting to be delivered from something, for something and into something much bigger than ourselves.

First, there is waiting to be delivered- from our own sin, from the sin of others and even from the sin of the broken world we inhabit. This is often a passive waiting because we find ourselves unable to deliver ourselves from the pain, the injustice around us; so we wait for a deliverer. However, we also believe in a second kind of waiting. This is a waiting for something, for a salvation that begins and ends in Christ. A salvation that unfolds in new and unexpected ways as each of us becomes the person God first created us to be. Finally, there is a third kind of waiting that we remember in Advent. We wait to enter into a world without injustice, pain, sickness, cruelty, or death. We wait for all men to be at peace with one another and to walk with God as friends; we wait to live in a world that is as perfect in reality as God first created it to be. We wait for God's kingdom to come!

Advent is a season, once a year, when we wait and watch to see how God can do what He has promised; a season when we are filled with wonder at the surprising way God chose to accomplish His grandest purposes through the birth of a helpless child. We are filled with wonder as we reflect on how He reveals himself in our sorrows, in our joys and in His promises. Counter to the cultural messages that inundate us, we are invited to enter into Advent as a sober time of waiting. A time when, even though we know the story, we remember once again its ups and downs, its possibilities. A time when we wait and watch and wonder at what has been, what is and what is yet to come in Christ the King.
~Liz Smith~