What to Expect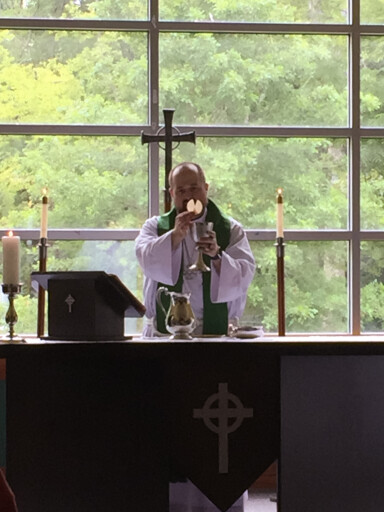 We are a liturgical church. "Liturgy" simply means a pattern of practices and prayers that allow us to enter into public worship. Our worship follows an ancient pattern from the days of the earliest Christians which includes contemporary and traditional music, times of corporate and private prayer, hearing and responding to the Word of God, a Bible-based sermon, confession of sin, sharing God's peace with one another, and Holy Communion. You can expect the service to last about 1 hour and 15 minutes. It's easy to follow along using the printed service bulletin provided as you enter the church and listening to the pastor's directions.
Each week, we conclude our worship service with Holy Communion. All baptized Christians are welcome to receive communion with us, regardless of age or denomination. At communion, you will receive bread first, which you eat, or keep and dip into the cup of wine when it comes. You may also drink directly from the cup. Gluten-free wafers are available, just ask the pastor when he comes to you. If you do not wish to receive communion, you may stay seated or come forward. If you come forward and cross your hands over your chest, you will receive a blessing instead.
Children are welcome to stay with you throughout the service. Children K-5th grade will be dismissed to their own program of worship after our opening songs of worship. They will rejoin us before communion. We provide a nursery for infants and preschoolers.
You may wear whatever you like; some people dress more casually and others dress more formally.
The entire worship service is designed to allow us, individually and as a community, to encounter the Living God. In that encounter, we seek to bless the Lord and minister to Him. People from a great variety of traditions and experiences find this form of worship both powerful and transformative. Our hope is that you will join us and see what we mean.